What is Mac Linux USB Loader?
Mac Linux USB Loader allows you to create bootable live USB drives for Ubuntu and other Linux® distributions without burning a CD. Unlike other tools, bootable USB drives created with Mac Linux USB Loader can be booted on your Mac, don't require formatting your drive, and they even work on certain PCs as well.
The tool is necessary to make Linux® distributions boot that do not have EFI booting support. Many distributions started adding this with the release of Windows 8, but it has not been finalized and is still nonstandard by most distributions. Many common distributions are supported, like Ubuntu and Linux Mint.
Mac Linux USB Loader is powered by Enterprise, a custom boot manager designed to make it easier to boot Linux® on your PC or Mac. The program automatically installs Enterprise on your USB storage or external hard drive alongside your chosen Linux® distribution. No other software out there can do what Mac Linux USB Loader does — it has been the undisputed champion since 2012!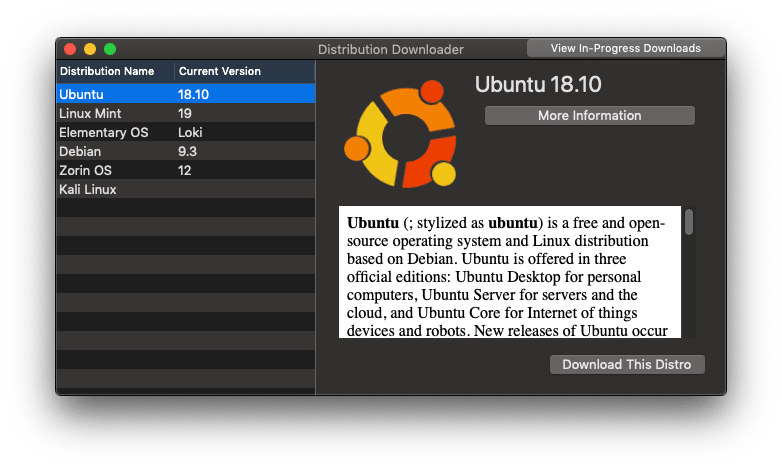 Distribution Downloader
Mac Linux USB Loader features an easy-to-use distribution downloader which lets you easily obtain copies of your favorite Linux® distribution from the Internet. Each distribution has one or more geographic mirrors, allowing you to obtain the ISO from a location close to you. The mirror lists are downloaded from the Internet at a frequency you choose, ensuring you always have the latest mirrors.
The distribution downloader also features descriptions, taken from Wikipedia, of each of the different Linux distributions. These descriptions can help you decide which distribution to choose.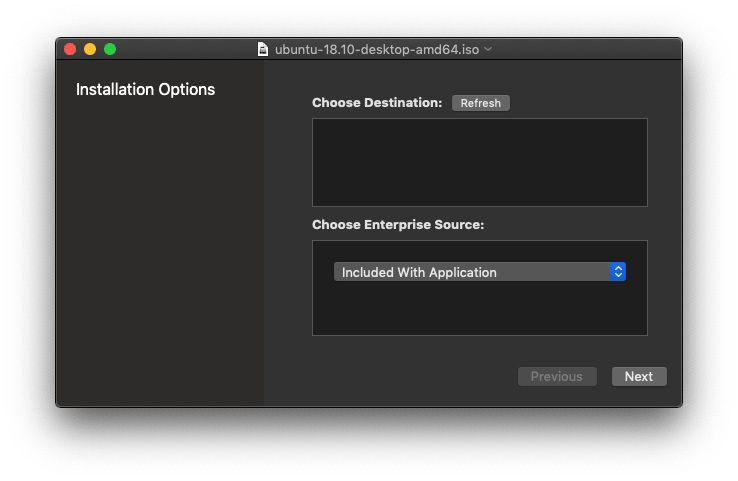 Simple Setup Wizard
Unlike nearly all other software to create a bootable Linux® USB, Mac Linux USB Loader features an extremely easy-to-use user interface. Choosing which USB device to install to is a trivial process, and for advanced users, the software even lets you choose which boot manager you wish to install on your USB.
To create a live Linux USB drive, simply select the drive as it appears in the setup wizard. If you're an advanced user, you can also select which version of the Enterprise boot manager you wish to use. (This feature is hidden by default and can be enabled in the preferences.)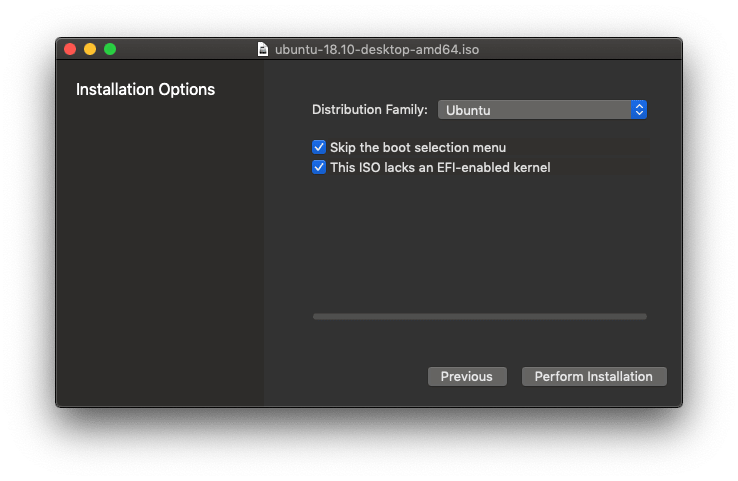 Uncomplicated Settings
Mac Linux USB Loader gives you the same flexibility in setting up your USB drive as other major software, but without the myriad settings and buttons that make it impossible for novices to setup, configure, and use.
Also, we should mention that Mac Linux USB Loader doesn't extract the contents of your distribution's ISO file, meaning that after setting up your live USB, you can still use any remaining space to store other files on your USB. So, you don't have to sacrifice a whole USB drive!
I manually created quite a few drives only to find they didn't work. I'm very thankful I eventually found Mac Linux USB Loader, because it removes a lot of the guesswork from the process. Hopefully every Mac user wanting to boot Linux from USB will find this software.
—
Justin Pot
, MakeUseOf
If you have followed our guide to install Ubuntu on Macbook Air, you will know that creating a Linux live CD/USB that can run in Mac is a troublesome chore. You need to find the Mac-compatible version of the ISO file, convert it to img file and lastly dump it into the USB drive. Mac-Linux USB Loader is one simple tool that can get all these things done without all the hassle.
—
Damien Oh
, Make Tech Easier
I'm just introducing myself to Linux and coding and I'm really grateful for a thriving community with great programs to help people get started. Thanks for making the Mac Linux USB Loader and opening the door for me (not to mention providing an extended life for my macbook with a dead dvd drive). I hope to be contributing to open projects like this myself some day soon.
— Anonymous
Think you can just plug a standard Linux live USB drive into your Mac and boot from it? Think again. You'll need to go out of your way to create a live Linux USB drive that will boot on a Mac. This can be quite a headache, but we've found a graphical utility that makes this easy. … "Mac Linux USB Loader" by SevenBits worked well for us. This Mac application will allow you to create USB drives with your preferred Linux distro on them from within Mac OS X in just a few clicks. You can then reboot and boot those USB drives to use the Linux distribution from the live system.
—
Chris Hoffman
, How-To Geek
Downloads
Mac Linux USB Loader costs $4.99 to download and is bought through PayPal. The download is secure and is delivered to your email when payment is complete. Mac Linux USB Loader is open-source and compiled binaries cost money in order to offset the effort required to maintain the tool.
Help & Support
Official support and documentation is available on the wiki.
If I have time, I can sometimes handle basic support questions over email. If something is wrong with one of the supported distributions, I can generally help, but if you're doing something exotic, I will require a small fee. I have full-time responsibilities and so I can't afford to give lots of help for free, sorry.
If you find a bug, please file a bug report.